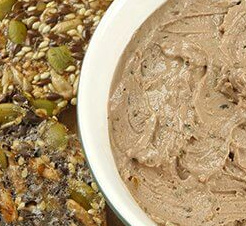 Energy Boosting Chicken Liver Pate
By admin Dinner, Light Meal, Party, Snack
September 27, 2019
Chicken liver is one of the healthiest foods on the planet. Great source of iron and certain B Vitamins including Vitamin B12. Making it a great choice for boosting energy. It's also a good source of Vitamin A which helps with wound healing and eye health. It also contains CoQ10 a powerful antioxidant.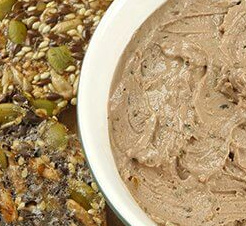 Directions
1In a medium saucepan, heat oil then combine the chicken livers, onion, garlic, sage, thyme and 1/2 teaspoon of salt.
2Cover, reduce the heat to low and cook, stirring occasionally, until the livers are barely pink inside, about 3 minutes. Remove from the heat and let stand, covered, for 5 minutes.
3Transfer everything from pan to a food processor; process until coarsely pureed.
4With the machine on, add the butter, 2 tablespoons at a time, until incorporated.
5Add the Cognac, (if using) season with salt and pepper and process until completely smooth. Scrape the pâté into 2 or 3 large ramekins. Press a piece of plastic wrap directly onto the surface of the pâté and refrigerate until firm.
6Serve chilled.
Ingredients
1 tablespoons extra-virgin olive oil
1/2 pound chicken livers, well-trimmed
1 small garlic clove, smashed and peeled
4 sprigs of fresh sage (or 1/2 teaspoon dried)
2 teaspoons of fresh thyme (or 1/2 teaspoon dried)
Good quality Kosher, Celtic or Himalayan salt
1/4 cup full fat grass fed cream
Approximately 8 tablespoons of cold organic butter
2 teaspoons Cognac or Scotch whisky (optional)