Are You Tired All.Of.The.Time?
You Can Boost Energy Naturally & Safely
Feeling clear headed and sharp... at home and at the office...
Having more time, because more energy = more time...
Feeling confident that you know how to increase energy safely and naturally...
Having the energy to have more fun...
Watch the video now - What would you do if you had the energy for something extra...?
Is This You?
Bummed out because you're missing out on socializing with friends and family?
Want to get healthy in a natural way, but afraid it's too expensive?
Have you been to doctors who say you're 'fine' - but you don't feel fine...?
Do you barely have time to manage now - never mind do something for yourself?
Are you worried of what might happen if you can't keep up - what about your job?
One-Of-A-Kind Online Nutrition Program
Simplest / Fastest / Safest
Hi!  My name is Glenda.
At one point I was seeing seven doctors, undergoing multiple tests, taking several medications, in and out of the hospital...  Over time I was able to get somewhat better, but no-one seemed to have the answer to why I felt so tired, all.of.the.time...
My fear was that I would be taken out of commision and then everything would crumble. Sound familiar?
Eventually, I decided that I needed to take my health into my own hands and went back to school to become a Registered Holistic Nutritionist.  Since graduating, I've helped hundreds of people improve their health safely and naturally with foods, supplementation and lifestyle strategies.
With nearly a decade of working with clients and training, I've developed this one-of-a-kind Nutrition Program.  If followed conscientiously, it will boost energy in a healthy and natural way.
Now, you need to ask yourself - are you worth it?  Is your family worth it?
I've Made It Easy For You!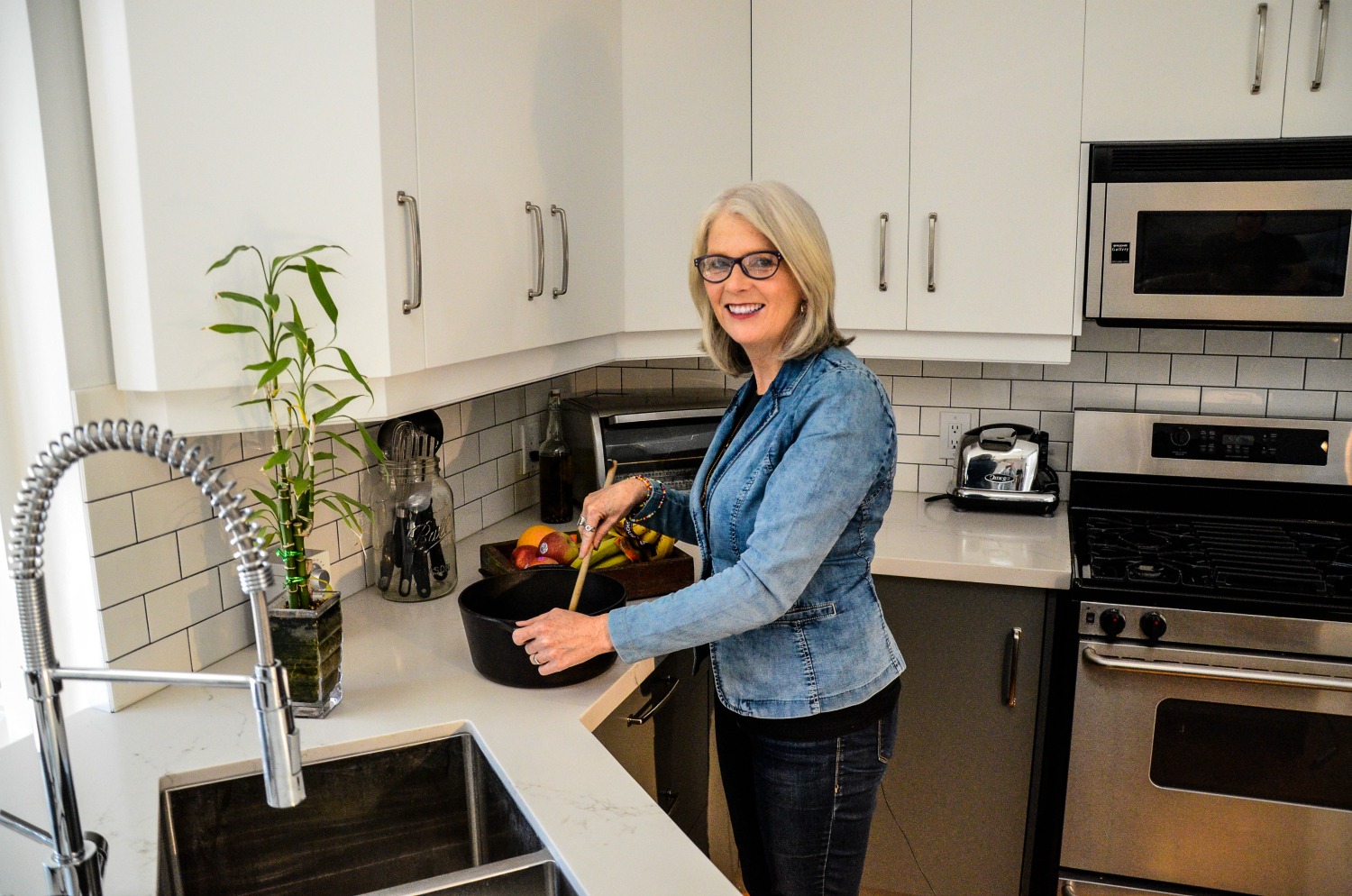 In Less Than 20 Days...
You Can Boost Your Energy Safely With Food & Supplementation
Who is this Program for...
People Who Are Tired Of Being Tired

This Program was designed initially for moms with Special Needs Children (after all I am one)! BUT, everyone who was trying it loved it, so I'm offering to anyone who needs to boost energy and wants to do it naturally and safely.
Individuals Who Are Ready To 'Hit' The Kitchen

Sorry, if you're not ready to get in the kitchen – then this program is NOT for you… BUT, if you want to know how to quickly and efficiently prepare the most delicious, family friendly, energy boosting recipes made from nutrient dense whole foods – this Program is A PERFECT FIT!

The Eating Plan is only 10 Days Long…
People Who Eat A Little Meat...

The foods in this Program were strategically chosen to boost energy – therefore a little meat consumption is required.  I get it – I was a vegetarian for over 20 years.
Those Who Want To Know What To Do

Following this one of a kind system will give you the tools you need to boost energy safely and simply – all the guesswork has been taken out.

Learn to manage your health and not have to worry about eating 'perfectly' all the time…
Busy People Who Have Tried Everything

Have you already tried everything?  Are you confused about all the misinformation out there about health and nutrition?  Here is the 'system' that works – plus it's easy and affordable.
People Who Don't Have Time For A Nutrition Program

>> You won't be making different meals for everyone – all recipes are kid-tested…

>> There's no weighing foods or counting calories…

>> It's an energy boosting system – all the guesswork has been taken out…
Here's What Others Have Said...
I didn't need to lie down in the afternoons anymore, that was a big WIN in my books.

Plus, I put on a pair of shorts that were tight all summer, and now their loose!!! Whaaaaaaat?!!

I would recommend this program - it's easy, delicious and repeatable.

Michele
The food we ate is healthy with a good mix of what's important to eat on a daily basis.

I lost weight quickly and in a short period of time.


An extra benefit from doing this program is that I now pay more attention checking out labels at the grocery store and I have a better understanding of what makes up a nutrient dense food."


Mark
I was less tired! Had more energy! And started craving different, healthier foods!!!

Glenda is supportive and nuturing and her tutorials are very helpful.

I also liked how this was a whole approach- organization, shopping, cooking, supplements- it made turning everything around easier

Lesley
We felt better and although we were eating less we didn't feel hungry.

I would recommend this program to anyone who wants to adopt a healthier way of eating. There are many things I will adopt into my regular eating habits.

Plus, we both lost 5 pounds.

Kathryn + Husband
Do You Know The Secret Weapon To Having More Time?  

=  More Energy 
Menu Plan

You don't need to figure out what to eat – everything is laid out for you
Shopping Lists

Save time and money
Recipes

This is where the magic happens!  Carefully designed, family-friendly and delicious meals that help give your body and brain what it needs to thrive!
6 Mini Booklets - I Call "Little Bites"

All information is delivered in 'bite size' pieces – quick & simple – just what you need to know – no fluff…  I know how busy you are…
Each "Little Bite" has an AUDIO accompaniment

Don't have the time to sit and read?  Listen & Learn while you get other stuff done…
All Materials Laid Out In A Fun And Easy To Use Electronic Format

Access the whole program from wherever you happen to be.  It's all computer and smartphone friendly:)
One Time Supplement Offer - Recommended For Optimal Results

Have professional brand supplements delivered to your door / Free delivery / Save $60…!

**Supplement savings are only available to Canadian Residents – US Residents are directed to the appropriate online websites that carry professional brands.
Energy is the Ultimate Currency!


Canadian Funds | Taxes Included
I Get It - I've Been There...
Bonus #1 - Live Online Class

–  Learn the science behind why this system works…

– Get any questions you have answered by me…
Bonus #2 - Healthy Feast Program

– A guide to help you host and serve an amazingly delicious  & nutritious feast for your friends and loved ones this Holiday Season.
Bonus #3 - Coaching

– You're not alone, receive a series of coaching emails from me –  With extra tips, how to videos and more!
Canadian Funds | Taxes Included
Money Back Guarantee
If, after 30 days from the date of purchasing, and, if you have made a conscientious effort to follow the recommendations as outlined in the program (including foods and supplements), you do not feel a shift in your energy levels – Please contact our offices, and forward your completed Food Journal outlining what you tried and for how long.
We will gladly refund the $67 CAD if you did not benefit from the Program.
What do you have to lose?
See You On The Other Side!